| | |
| --- | --- |
| Malpaca® Natural Pillows | |
Malpaca®Pillows, designed and manufactured by Mary Anderle, an interior designer for 25 years, are 100% all-natural pillows, using organic fabric, thread, and labels. No expense has been spared to create and make this eco-friendly, naturally hypo-allergenic, anti-bacterial, naturally fire retardant and dust mite resistant product. Most importantly, Malpaca®Pillows contain no harmful toxins.

Malpaca®Pillows were created as a safe alternative to the insecticides and fire retardant chemicals contained in bedding. Made from 100% alpaca, raised in the United States. Available in four sizes and three fill options.

Why Natural Alpaca Pillows?
Alpaca, unlike sheep's wool, is dust mite resistant and hypo-allergenic. Ideal for someone with serious allergies.

Why Organic Fiber?
Even though a fabric says "natural", it is most likely grown and processed with chemicals. "Organic" certifies that no toxic chemicals or pesticides were used or detected while the crop was grown, harvested or processed.

Why Non-Toxic Pillows?
Toxic chemicals are added to bedding to protect against fire, bugs, and bacteria. This "protective" measure can be accomplished naturally and safely by choosing alpaca and all-organic materials.

Size Options
New larger design and four size options of:
Standard, Queen, King, & Euro
| | | | |
| --- | --- | --- | --- |
| size | dimensions | weight | price |
| Travel Pillow | | | |
| Standard | 19" x 27" | 3-4 lbs | $200 |
| Queen | 19" x 30" | 4-5 lbs | $240 |
| King | 19" x 35" | 5-6 lbs | $280 |
| Euro | 30" x 30" | 6-8 lbs | $360 |
Fill Options
Three fill options of - Light, Medium, Full.
Light fill - best for younger children or for adults who prefer a flatter, softer pillow.
Medium fill - preferred by most.
Full fill - fullest and firmest support; great for the snorer who needs to be elevated. Also popular in King Full size for expectant mothers, who like a supportive and safe body pillow.
Malpaca®Pillows' design represents both traditional handmade style with the firm support of contemporary foam pillows. They are supportive, yet buoyant. Heavier than most pillows, Malpaca®Pillows have a fuller body and are not as airy as feather fill. The natural fill will have more loft at first, but will compress some after use, conforming to individual sleep habit.
Fabric
Malpaca®Pillows are offered in a soft and pliable cover of 100% Viscose Organic Bamboo, and are OCIA International Organic Certified.
To Clean Pillows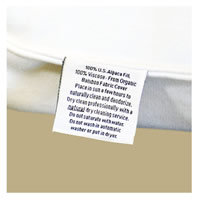 Care is simple: To clean and deodorize, place in sunshine a few hours. Yes, this really works!
Much like down feathers that occasionally sneak through the fabric covering them, you may see some natural shedding occur with the alpaca pillow. No worries, there's plenty inside!
We suggest covering with an all-natural fabric pillow case to protect the pillow from soiling. Use any combination of cotton, bamboo, etc. (preferably organic) as a fabric. This is extremely important in order for the fiber inside to breathe and perform.
Ship-To-Travel-Tote
Since many of us take our pillows with us when we travel, our American sizes (excluding Euro) are uniquely packaged and shipped. Each pillow ships with an eco-friendly, custom made, reusable tote; easily carried when travelling. Your pillow is protected and easy to take with you...anywhere.

Note: Tote is temporarily unavailable. A new and improved design is in the making.